About Library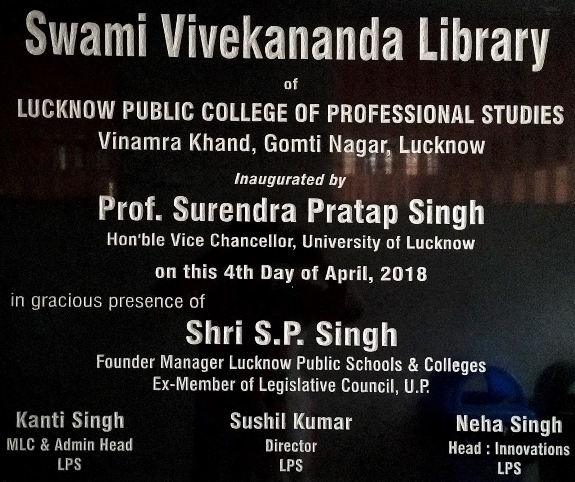 Swami Vivekanand  Library
Integrated Library Management System (ILMS)
About Library & Reading Room
The Swami Vivekananda Library is located at the basement of main campus. The main library is functioning in A block. The library area is 2407.951 Sqf (223.706 Sqm) and this reading room portion has a seating capacity of approximately 100 students. This library also has 20353 books, 14 computers and 1 projector. Library is fully automated with leading library management software solutions. KOHA which give a user-friendly interface for searching resources in the library, along with its positions and availability status. The library has Web - OPAC for providing remote access to its repertoire of textual. The library is fully automated with leading library management software solutions.
| | |
| --- | --- |
| Name of the ILMS Software: | KOHA |
| Nature of automation: | Partially |
| Version: | 19.11.03.000 |
| Year of automation: | 2020 |
| Perl Version: | 5.018002 |
KOHA is a multilingual, multiuser and multitasking software, which not only helps to effectively manage a library but also helps in reducing the overhead cost. At Swami Vivekananda Library is used for following:
Patron Section: Create new patron

Cataloging Section: Books Information

Circulation Section: Counter Services

Transaction Report Section: Issue & Return

New Book Entry Section: Books Entry

Library OPAC View
| | |
| --- | --- |
| S.NO. | KOHA DESCRIPTION |
| 1 | Student Teachers  & Staff Membership Entries |
| 2 | Books Entries |
| 3 | Books Issue & Returns |
| 4 | Dues Collection |
| 5 | OPAC |
| 6 | View the Reports |
As also stated earlier Library is automated initially with KOHA software version 19.11 and operative till the academic year 2020, then library has upgraded of the partially automation by KOHA web OPAC. It has been done from the academic year 2020-2021 to make all the library operations smart and computerized.
Salient Features of the Library
Swami Vivekananda Library established in 2009 has a large stock of books.

A Convenient spacious reading aria with 100 seating capacity is available with area of 2407.951 Sqf..

Wi-Fi connectivity available 24/7.

14 Computers and 1 projector are provided to assess the e-resources.

Our Library has been handling words complete computerization and automation of all operations. 

The database of library books is available on OPAC for bibliographical search. OPAC is searchable on library LAN.

Separate section 'Like book section 'Reference section, Rear book section, Text book section Magazine and Newspaper, and Digital library are available.

Book issue and return is carried out with the help of barcode system.
Library Rules
Visiting hours for the library is 8:30 AM to 3:30 PM in summers and 9:00 AM to 4:00 PM in winters.

Lunch hours of the library are between 2:00 PM to 2:30 PM.

Students are not allowed in library during lunch hours.

Entry is prohibited in the library without library card.

Book Bank issue timing for B.Com and BJMC is after the 1st half of the College.

Books of the book bank have to be retuned on the next day of the semester examination or as per the date given by the college otherwise the fine of Rs. 10 per day will be charged.

In case you are not able to return the books on time due to any emergency then inform this to your class teacher or coordinator of the college.

Reference & Text Books will be issued for 10 days only. Only two books will be issued at a time. Books can be re-issued after 10 days.

Library books are given for 10 days. After due date fine will be charged daily 10 Rs. .

Always take the receipt of the fine that you are paying.

If the books are tore / mutilated / damaged / pages found missing or any scribbling/marking/drawing/notes etc. are written in the books either with pen or pencil or nay spot of the tea / coffee / shake / pickle / vegetable / oil or anything else is found in the book, then fine will be charged from you which will be equal to the price of the books or you have to get the same book of the same subject, publication & author as replacement.

If it is holiday on the day of returning of book then will be returned on immediate next working day without any fine. After that day, the fine will be applicable.

Argument with the librarian in any case is prohibited.

In case of any issue in the library, contact your class teacher, to take their help to get it resolved.

Always put cover on your books of book bank with the brown sheet at the time of issue of books, so that is remains clean and fresh for the whole semester. Keep your cover back with yourself while returning and use if for the next slot of books.

Books lost or torn will be compensated by a new book or the coast of the book has to be paid by the concerned person.

Books will not be issued with library card.

New library card will be issued, if already issued card is lost, only after paying fine as per the college rule.

Students are supposed to make entries in the library entry register before entering the library.

Students are allowed to access the library only in their free period or allotted period.

Boys and Girls are instructed to sit on their respective side of the seats.

Use of mobile phones are strictly prohibited in the library, anyone found using the same will be liable for punishment(phone will be retained by the college for at least 48 hours)

Bags should be kept at the bag rack in the library. You are not supposed to carry the bad inside the library.

Do not carry any valuable items in the college. College is not responsible for loss of any valuable items.

Students found talking or disturbing in the library will be debarred from the library for the entire day.

If any student is found in the library during the classed will be suspended from the college.

Students are not allowed to eat lunch or snacks in the library.

Students not abiding by the library rules and regulations will be debarred from the library and suitable disciplinary action will be taken against them.

Damage and lost books shall not be given new Accession No.

New arrivals in stock is given new identification no.

In case of any grievance in the library, students can contact the library committee.  
Rules and Instructions for Book Bank Books
The books will be issued to the student only, but returns can be through anyone,

Students are responsible for checking of the books (Neatness, tidy and not marked with pen or pencil) at the time of issuing book bank. If found any short coming contact to librarian immediately. 

All the students must ensure returning the entire set of books provided to them within 1 week/ date provided by library of completion of their Final Examination of the concerned semester/ year.

If the student does not return the books within a week after the exam, then he will have to pay a late fine.

If any student fails to return the books with in due date. (As stated above), then he/ she will be charged fine decide by the authority. 

Loss/ damage/disfiguring/tearing of pages of library books, twice the prevailing cost of the book (as replacement cost) will be charged in case of non – replacement fines till the date of replacement books / submission of books replacement cost will be applicable, barring  few exception *

Defaulters, in case of delay of in the permissible period shall not be issued any publication till they clear the past account dues of the library.   
| | | |
| --- | --- | --- |
| S.No. | Fine Statement | Paid fine |
| 1. | After Due date within one week | 10 Rs.Per day |
| 2. | Between 8 to 15 | 125.00 Rs. |
| 3. | Between 16 to 90 | 250,00 Rs. |
| 4. | Between 90 to 180 | 1000.00 Rs. |
| 5. | After 181 days | 1500.00 Rs. |
Note:   
Principal, Dean, Librarian, & Library Coordinator fine till reporting date (in writing) will be applicable.

 Anyone who violates the rules & regulation of the library would be liable to lose the Privilege & library membership.
Library Services
Library Receives English Paper

Library Receives Hindi Paper

Hindustan

Hindustan Times

Times of India

Nav bharat Times

The Hindu

Dainik Jagran

The Express

Jan Satta

 

Amar Ujala

 

Library Receives English Magazine

Library Receives  Hindi

 Magazine

India Today

India Today

Competition in Focus

Computer Sanchar Suchana

Competition Success Review

Competition Success Review

Competition Refresher

Paribodh

News Event

News Event

Current Affairs

Current Affairs

Yojana

Yojana

Kurukshetra

Kurukshetra

Reader Digest

Pratiyogita Darpan

Digit

Pratiyogita Kiran

Science Reporters

Vigyan Pargait

Science Refreshers

Paribodh

Pratiyogita Darpan

Hansh

Pratiyogita Kiran

Kadambari

Sport Star

Cronical

Cronical

 

The Week

Yearly Magazine- Eng. &Hindi

Front Line

Pratiyogita Darpan (Eng.)

Business Today

Pratiyogita Darpan (Hindi)

Business World

India Today (Eng.)

Cricket Samarth

India Today (Hindi)

English Today

Cronical (Eng.)

English Today (G.K.)

Cronical (Hindi)